At Kidzu —make, build, explore and learn— an adventurous expanded Museum experience for age infant to tween. Kidzu's new 8,500 square foot space is multi-sensory, play-centered, and focused on providing area children and their families, teachers, and caregivers an ever-changing menu of exhibits and programs that inspire creativity, collaboration and community. Kidzu Children's Museum is a hands-on museum dedicated to inspiring young children and the adults in their lives to learn through purposeful play. We are planning to expand to a much larger site in the next few years. Read on to learn more about where we've been, what we're up to, and where we're headed.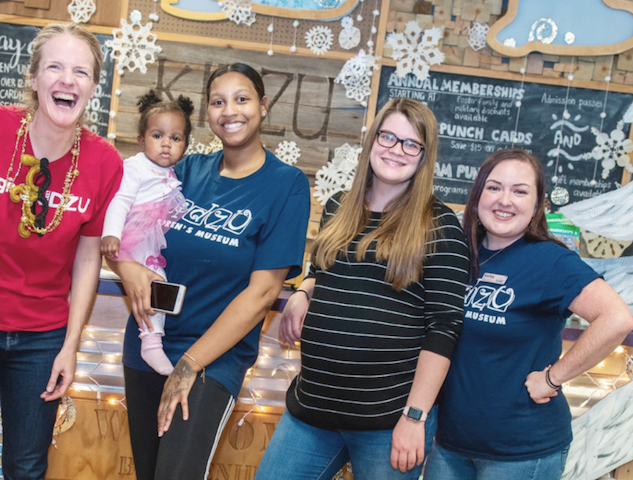 With a focus on STEM education, the arts, child health and emerging literacy, Kidzu Children's Museum inspires children and the adults in their lives to learn through creative, purposeful play.
Kidzu's vision is to be a national model of excellence as a community-centered children's museum. That is, to effectively serve, celebrate and reflect the community through unique, place-based experiential exhibits and programs that promote 21st century skill-building and family engagement.
Kidzu's Core Values
Creativity
Kidzu is built on the premise that nurturing a child's creativity will build confidence, lead to innovative problem-solving, and position a child for adult success.
Collaboration
Kidzu believes that the whole is greater than the sum of its parts and that collaboration results in bolder impact. We encourage collaboration through the design of our activities, and we practice collaboration internally and externally in all of our work.
Community
Kidzu believes that a children's museum serves as an integral community hub for children, families and those who care about them. Children's museums level the playing field, with inclusivity at the core of their philosophy. At Kidzu every child is valued, every family is welcome and diversity is celebrated.
Sustainability
Kidzu is committed to an agile and sustainable infrastructure while meeting museum goals and the changing needs of the community we serve. Our business model and organizational culture reflect a dedication to service and to sound financial stewardship.
Play as Lifelong Learning
Kidzu is founded on the premise that through play, children learn. The learning process is infinite, and we believe that age is irrelevant when it comes to discovery, engagement and enjoyment. No matter what your age, there is always something interesting and new to explore at Kidzu.
Research + Best Practices
Kidzu embraces research as a guiding tool to create our visitor experience and to inform our community on everything related to the healthy development of the whole child. We invest time and resources to ensure the implementation of the museum best practices in all that we do.
Kidzu Children's Museum wouldn't be here without the support of our friends and neighbors. The museum has always relied heavily on students from UNC Chapel Hill and area high schools to keep Kidzu running on a day to day basis. Kidzu prides itself on being a starter job for young people to help prepare them for entry into the workforce after college. We partner with more than 100 community organizations who provide our visitors access to a realm of sensory experiences.
Lisa Van Deman, Executive Director
Greg Dills, Development Director
Melanie Hatz Levinson, Creative Director
Kailey Singleton, Visitor Services + Membership Director
Christy Parrish, Program Manager
Sabrina Varney, Administrative + Special Projects Manager
Hannah Stewart, Lead Designer Exhibits + Graphics
Vanessa Rivero, Grant Manager
Merisa Tomczak, Development Coordinator
Allie Lee, Outdoor Learning Coordinator
Alison Davis, Field Trip Coordinator
Darien Cropper, Program + Camp Coordinator
Our Board of Directors
The Kidzu Board of Directors is a volunteer group of experts from the business, education, legal, development and non profit communities. The Board of Directors meets once a month and the Board Committees meet various times throughout the year.
For more information on the Kidzu Board please contact Executive Director
Lisa Van Deman
.
Jamie DeMent Holcomb, Chair  |  Jeffrey Fischer, Co-Vice Chair  |  Jon Mills, Co-Vice Chair
Judy Jones, Secretary | Delores Bailey, Treasurer
Jennifer Jackson, Member-at-Large
Betsy Bennett, Past Co-Chair
Roberto Blanco, MD
Lorna Chafe
Charles Coble
Elaine Foster
Emily Gangi
Pat Heinrich
Dianne Jackson
Mark Kleinschmidt
Will Lloyd
Emily Newman
Lisa Price, Past Co-Chair
Ed Spence, MD
Ellen Stolzman
Mary Stowe
Pam Zornick
Museum Circle Members
The Kidzu Museum Circle is a group of valued community members advising and supporting Kidzu as we work to enhance learning through play and make sure we have a "museum for all" for our community. We couldn't do this work without their support. Please contact Development Director Greg Dills with any questions.
Lisa Price, Chair
Abdullah & Asuman Antepli
Todd Boyette
Ken & Margie Broun
D.R. & Fran Bryan
Woodrow & Catharine Burns
Anthony Carey
Moses Carey & Peggy Richmond
Bill Chafe
Maggie Connolly
Hans Flinch & Nan Nixon
Alexander & Meagan Julian
Betty Kenan
Tom S. Kenan III
Howard & Lillian Lee
Joel Levy
DG & Harriett Martin
NC Rep. Graig Meyer
James & Susan Moeser
Sharon Palsha
Florence & Jim Peacock
Stanley & Marion Robboy
Susan & Tom Ross
Bill Ross & Susan Gravely
Jim & Mary Sasser
Samia & Mohamed Serageldin
Lee Smith & Hal Crowder
Sallie Shuping-Russell
Joseph & Marilyn Sparling
Amy & Michael Tiemann
Barbara Tyroler & David Cooper
Jerry & Sondra Van Sant
Roger & Ann Waldon
Rosemary & Gary Waldorf
John Watson & Betsy Blackwell
Founding Museum
105 E. Franklin Street, Chapel Hill 2006 – 2011
Kidzu Children's Museum opened its doors in March 2006 at 105 E. Franklin Street. In this site, Kidzu served more than 150,000 visitors, provided dozens of educational programs, offered outreach programs to children in need, hosted traveling exhibits from around the nation, and created Kidzu's first original exhibit, "KidZoom: The Power of Creativity!" Soon after opening, we began searching for a much larger site for Kidzu, where we could meet the substantial demand for our services and become a lasting part of our community. The Town of Chapel Hill generously agreed to provide Kidzu with a new site for the museum atop the Wallace Parking Deck in downtown Chapel Hill.
University Square Location
123 W. Franklin Street, Chapel Hill 2011 – 2013
In November 2011, Kidzu moved across Franklin Street to a sunny new location at University Square. This beautiful, affordable interim site allowed Kidzu to continue serving the community as we planned our permanent museum on the Wallace Plaza. At Kidzu2, visitors enjoyed our popular KidZoom exhibit, a wide array of weekly programs, special programming with Kidzu's UNC and community partners, field trips, birthday parties, Free Sundays, and much more.
Launch Pad: University Place
201 S. Estes Drive, Chapel Hill Launch Pad 1: February 2014 – July 2014
Launch Pad 2: April 11, 2015- Present
In the February of 2014, Kidzu Children's Museum moved to University Place (formerly University Mall). From 2014-2015, Kidzu moved around the mall in three different locations: first in a 10,000 sq. ft location which was formerly the Chapel Hill Public Library space, then to a smaller temporary location that was a focused Makery and programs space. Finally we found our home in 8,500 sq. ft. space that acts as our Launch Pad location. This bright and airy location now provides full range of opportunities inline with Kidzu's Launch Pad initiative. This location allows Kidzu to expand creative design-thinking, create new programming including maker workshops and STEAM (Science, Technology Engineering, Art and Math) education, and help prepare us to grow even bigger n the future. New exhibit elements, expanded programming, more field trips, better birthday parties and much more are always in the works.
Continuing to Grow
Kidzu's primary goal has always been to develop a permanent museum of adequate size with outdoor space and room for growth to best serve the children and families of our growing community. Kidzu's Launch Pad at University Place is a taste of the kinds of exhibits and activities the museum would feature in a permanent location, as well as other exhibits, program spaces, classrooms and outdoor exhibits that would serve, celebrate and reflect the academic and cultural richness of our community. In early 2015, the Kidzu Board of Directors voted to spend the next 8-12 months exploring site and partnership options that would be financially feasible yet able to accommodate Kidzu's educational vision. We invite you to get involved with Kidzu and help us build a permanent museum that serves all children in our community and inspires learning through creative play!